Image : © Mqdee
Bored of the same blues, blacks and reds? If you want to try something different, yet sexy—you got to try the fresh combination of purple with white eyeshadow eye look!
I have created this unique eye look using one of my favorite colors—purple! Add a dash of white to it, and you have a combination that you cannot ignore.
Products Used:

Elf 144 eyeshadow palette for purple, light purple, dark indigo, black and white eyeshadows
Lotus Herbals Kajal Black
Revlon eyeshadow palette in sand
Loreal Million Lashes Mascara
Maybelline kajal for the purple cream base
White And Purple Eye Makeup Look Tutorial:

So, let's paint our eyes purple!
Step 1: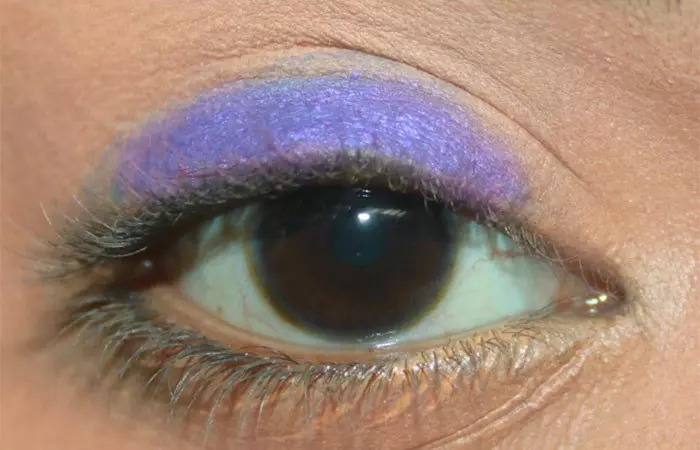 Image : © Mqdee
Before you start working on your eye makeup, it is important to hydrate your eye area properly.
Start applying an eye cream to moisturize and relieve any dryness in the under eye area. Gently use the ring finger to apply and blend the product. Allow the product to be absorbed by the skin. Then apply your favorite concealer. If you have pigmented eyelids, then it is best to use a corrector prior to the application of the concealer. Set the concealer with powder to avoid creases and fine lines.
Pick a creamy purple base and cover up the center of the eyelid area. Don't worry about being precise as we'll be smudging the whole thing in the next step in any case!
Step 2: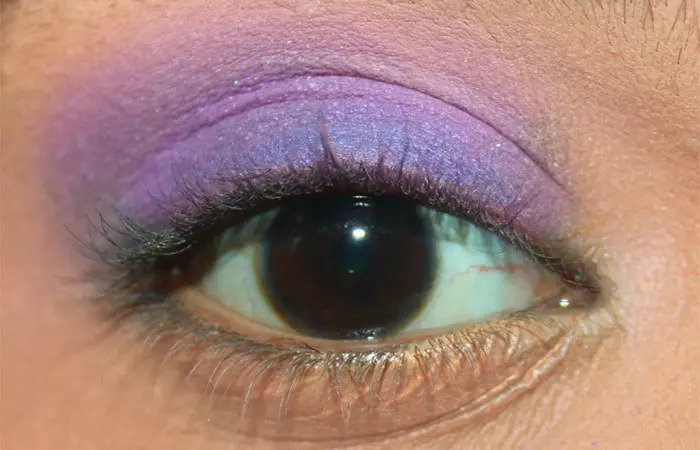 Image : © Mqdee
Use a smudger or pencil brush to gently blend the sharp edges of the purple cream base. Pick a matte soft purple eyeshadow and apply it to the crease area of your eyes. It is best to use a fluffy tapered blending brush to softly diffuse the color into the crease.
Step 3: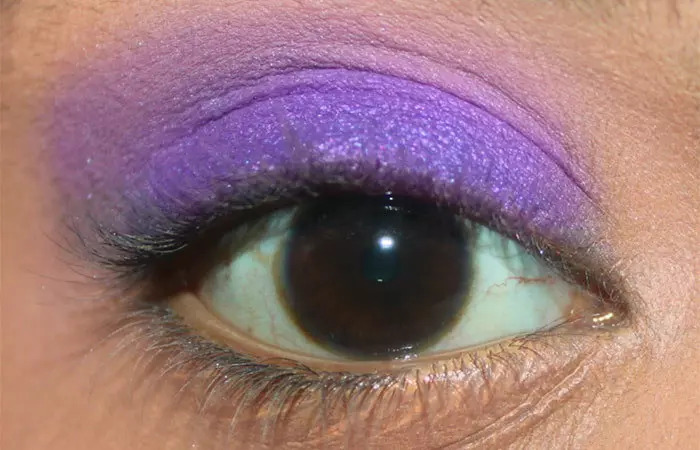 Image : © Mqdee
Now, pick a bright purple eyeshadow in satin finish. Apply it to the entire eyelid area. Layer the eyeshadow just above the smudged base. Instead of using the usual sweeping motion, pat the eyeshadow in place to build maximum color intensity.
Step 4: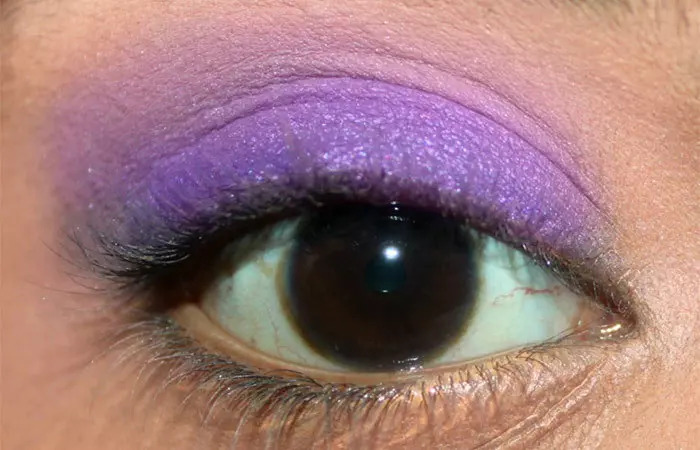 Image : © Mqdee
Then, pick a matte cream eyeshadow. Apply it to the crease area of your eyes above the soft purple shade applied earlier. It is best to use a fluffy tapered blending brush to softly blend all the harsh edges of the eyeshadow colors. This step is important as it will help the eye makeup appear soft.
Step 5:

Image : © Mqdee
Then, apply a matte indigo blue eyeshadow to the outermost corner and outer V area of your eyes. Use a pointed crease brush to precisely place the color.
Step 6: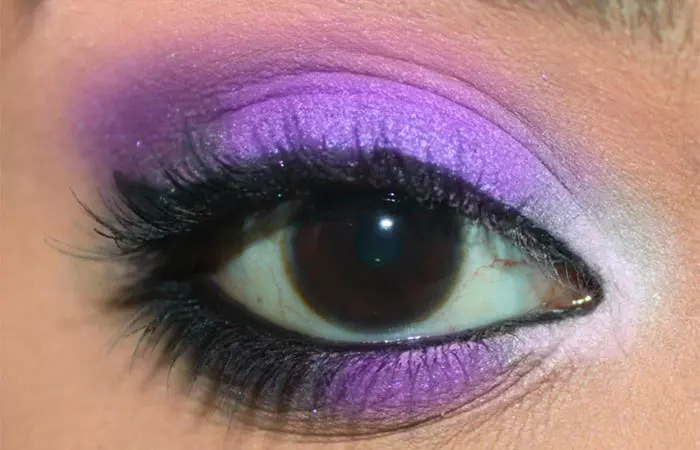 Image : © Mqdee
Then, again pick a blending brush and softly diffuse all the colors for a seamless finish. Apply the same bright purple we used earlier to the lower lash line to create a balance in the eye makeup. As I wanted to create a smokey look, I added a soft touch of matte black eyeshadow to the outer thirds of my lower lash line. If you are going for a soft and subtle look, then you can replace it with the indigo color.
Apply a shimmery white eyeshadow to the innermost corner and one third of the eyelid area. Then, line your waterline and tightline your eyes with a dark black kajal. Curl your eyelashes and follow it up with mascara to create an illusion of thicker eyelashes. As I wished to create a soft and subtle eye makeup look, I did not go for false lashes. But you can apply false eyelashes for this eye makeup if you want to! Then, apply a soft white eyeshadow to the brow bone of your eyes to provide that perfect finish!
With a little purple and white, your eyes will now really speak a thousand words! The thing I like most about makeup is that it allows you to play with colors and shades—isn't that what every woman dreams of?
Try it and lets us know your valuable thoughts in the comments section below.
Comments
0 comments